(BPRW) New Emerging Designer Changing the Scope Of Fashion and the Generation Gap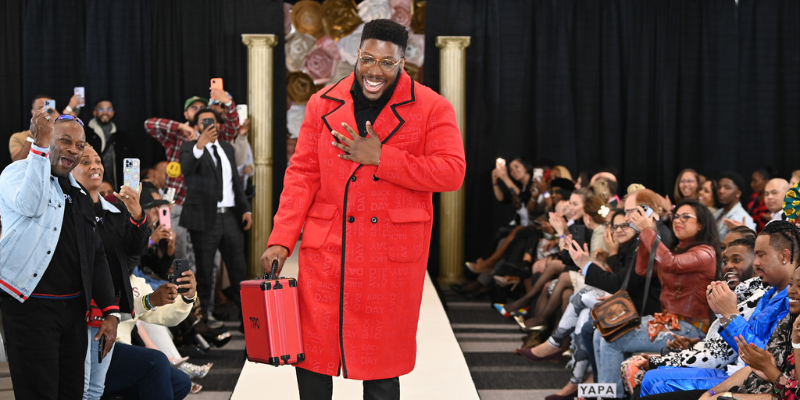 Doncel Brown Presents: Generation Typo
(Black PR Wire) Washington, DC – WJM Public Relations and Doncel Brown cordially invite you to the new game-changing clothing line Generation Typo. Generation Typo is a first-generation clothing line that believes in self-expression through clothing. There are a few things that can transcend through various generations and cultures. Music and clothing can help people connect and identify no matter the age or background. Generation Typo, understanding this concept, wanted to use fashion and clothing to help bridge the generational gap and give everyone a voice through their fashion and clothing line. Generation Typo believes that everyone should have and will have a voice. Generation Typo is an apparel brand focused on creating dialog between generations, and recognizing those who are willing to share those conversations.
Rising fashion designer Doncel Brown launched his first fashion line in March 2021, and his second collection October 2021. The first line of clothing entitled "Intro Szn" made its first public debut at DC Fashion Week in September and completely stole the show. The next official "Runway Collection" will take the stage at the upcoming New York Fashion Week this September. Generation Typo is a clothing brand focused on creating a dialogue between generations and recognizing those willing to share those conversations. They will be focusing on fearlessly challenging the difference of opinions and values between different generations. Generation Typo provides apparel and items that spark these conversations, thereby building a community that allows everyone to have a voice. Generation Typo keeps shining, and is currently established as an apparel brand, as well as, symbol to showcase the acceptance of generational differences. From the Baby Boomer Generation to the newest Gen Z's, the previous generation often believes that the next is doing "it" wrong. The "Red Typo", line has been carefully crafted within the apparel, the red underline includes branding that we have all be conditioned to associate with an error or "Typo" Generation Typo utilizes this throughout the brand to highlight those projected typos or generational opinions. Doncel is an American Entrepreneur, Investor, and Clothing Designer. Doncel was raised in Southern Arizona, moving to the DMV during his mid-way point of high school. Before finding success as Entrepreneur, Doncel excelled within the Tech Industry for his work in the business development sector. He saw himself as one of the youngest within his positions at multiple Fortune 500 companies including Apple. He earned praise from influencers such as DJ Quick Silva, Mya and Torei Hart just to name a few.
More About "Doncel Brown": A renaissance man can do it all—and more. As a graphic designer, clothing designer, investor, entrepreneur, and philanthropist, Doncel Brown shines as brightly as possible in each respective lane. Breaking barriers with his first clothing lines, working on projects with BET, and NETFLIX, running a successful business, and planning for his NEW YORK FASHION WEEK debut, he consistently turns heads and inspires with everything does. In 2016, he founded his first company 4K Life which was dedicated to marketing and graphic design. This was just the beginning, because four years later he started Generation Typo, and since then has been managing both companies with a clear focus on his clothing line, given the message it portrays. His experience working with some of the world's top tech companies has given Doncel the business savvy to build his own companies momentum with a limited budget, no celebrity endorsements, and huge marketing campaigns. Within a short time, frame, Doncel has landed fashion shows, article writeups, and news appearances. He has mastered the business mindset, and holds an expertise in fashion designing, digital marketing, brand consulting, and augmented reality design. This is just the beginning for Doncel Brown and Generation Typo.
More information available at www.generationtypo.com